This past weekend has probably been one of the best weekends in a while. It wasn't that we did anything spectacular, we just all hung out, which is fun, because, well, we're fun!
Saturday morning I slept until 8:00! Woo Hoo! I woke to a cool 19 degrees, with a wind chill of 12. Yep. 12. BRRRR! I bundled up and headed out. I went alone (first solo run in a month!). I knew Oscar would be disappointed, but I also knew we'd run on Sunday together. I ran a easy 6 miler on trails, and to my surprise saw many fellow runners doing the same! Even with the cold temps, they were out getting their run on too!
See the sweat frozen on my headband?!?!
When I arrived back home, I had to take the hubby to my school so he could take a proctored exam for his school (make sense?). I agreed to go along, knowing I needed to get some school work done too, I just hung out in the library until he was done. (Actually what I really did was work on my paper a little, then read some blogs, and commented on a few, checked to see what everyone else was up to on Facebook.)
After the test was over, we drove downtown to a little hamburger joint. I don't eat red meat, but I knew they had the AWESOME-EST veggie burger I've ever had! So the boys got their red meat, and I got their "No Bull Burger", which is ahhh-maz-ing!!! After we ate there, we went to Luluemon Athlectica. I had no idea until the night before we had one here in town! It was on the mall downtown, so we had to hit it up...I mean we were already downtown.... I've been on the search for a running skirt with shorts under that don't ride up, and Luluemon was my answer. Their shorts don't ride up because they have a rubbery band around the bottom of the shorts, kinda like biking shorts. I tried the skirt on, which is super cute, and knew it had to be mine....they also have lots of other cool stuff at a price of course, but the skirt was amazing, so that's the only thing I bought. (Since I have a job and all, I can justify a $60 skirt!)
Not my bootie, not my skirt, mine is black. Super cute, though, right?
When we got home I helped the hubby do the second step of his beer brewing. This will be his first batch, and he's super excited! Too bad it takes six weeks to do it! By March we should have beer on tap!
He called me, "Sexy Beer Wench"
After all that fun, I chilled on the couch and caught up on my DVR recordings. Again, awesome...
Sunday morning, Oscar knew it was on. I had on my warm running gear, and there was no way he was gonna let me run without him today! To my surprise when we stepped out, it was snowing! He's never ran in the snow before! He was so excited, trying to eat the snow as it fell from the sky. I laughed at that crazy dog the entire time! It was a little slick in spots, so we had to run a little slower, but Oscar's SLOW was a 9:30 pace today! That dog is speedy I tell ya!
So now this afternoon, the hubby and I both have papers due this week, and I have a test, so we'll be studying. Of course by 9pm tonight, I'll be tuning into my show, Downton Abbey.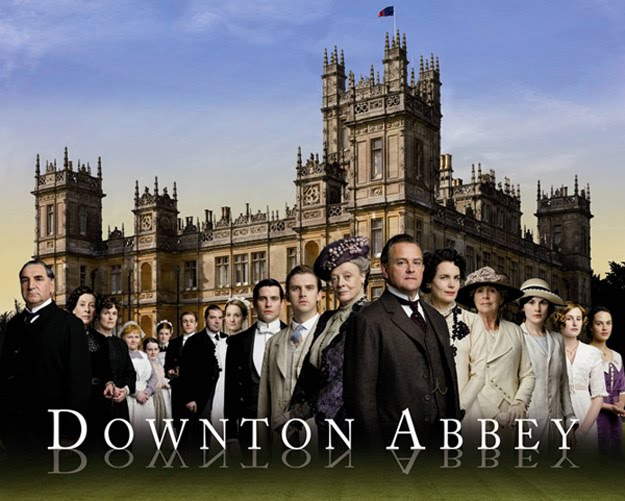 I do love this show! It's so different than anything I've ever watched!
I did a lot this weekend, but I think the difference is, I
wanted
to do all of those things!
What did y'all do this weekend? Was it a lazy weekend, or crazy?